How to Use Our Online Ordering System
Welcome to a new way of shopping! Our website operates a little differently to normal online shops so we've put together a simple step-by-step guide below to make the transition as smooth as possible. Follow along to begin your revolutionary shopping experience…
How do I order all this amazing produce we hear you ask….
Browse for the item you want in the search bar or under the Grocery drop-down menu.
Once you have found your chosen item, decide the quantity you require and click add to order.
This will add the item into your basket that will be AUTOMATICALLY ordered at a specific deadline:

12pm Thursday *PREVIOUS WEEK* = items from Essential Trading Co-operative
12pm Tuesday = Fresh fruit and veg and other local produce
12pm Wednesday = Items we hold in stock

You can edit your order in your order/cart up until Wednesday midday - although items with earlier deadlines will be locked after their relevant deadlines. The deadlines are there so that we can order all the products from our suppliers in time for Thursday collection.
If you'd like your produce to be delivered, you must choose this as an option in your basket.
IMPORTANT: If you want to order items from Essential Trading that we do not have in stock (such as tins, sauces, biscuits etc.) the deadline is midday Thursday, of the previous week to your collection. Sometimes we have items in stock so don't worry if you've missed the deadline, but if there are specific items that you want which we do not have in stock, then you can order in advance by choosing the right date from the drop down list:
The Power of Collective Shopping
Collective shopping is a revolutionary new idea. The aim of the game is that collectively, we can order enough shares of a given product in order to buy it in bulk from our suppliers.
What are shares?
Use the blue quantity adjustment buttons to adjust how many shares you would like buy.
Use the pink "extra maybe" buttons to indicate how many shares you would be willing to buy in order to make up the required number of shares and complete the set. These will be discarded if other people contribute enough shares.
If the price is marked with an asterisk, e.g. £1.50*, then the final price charged may vary slightly depending on the product received from the supplier.
Don't for get to click "add to order"!

Narrow your search!
If you're looking to shop as local as possible, or only organic products, we have created some filters on the right hand side of each shopping page. Just click the ones you want and apply them to your shopping!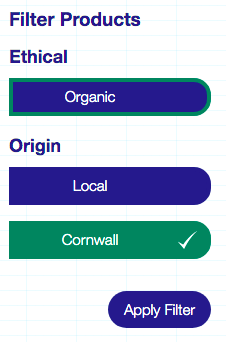 Is that it? I haven't paid yet or clicked checkout?! And when do I collect all this wonderful food?!
Don't worry, you don't need to checkout like with a normal online shop. Everything you add to your order/basket will be ordered for you automatically once the order deadline for each product has passed.
You will receive a confirmation email on Wednesday afternoon. You can then swing by and collect your groceries on Thursday between 5-7pm at the Dracaena Centre, Falmouth. If you request delivery, your groceries will arrive between 5-7pm on Thursday.
We will send you an invoice on Friday following collection/delivery. (This is so that we don't need to issue refunds etc. if something doesn't arrive)
Payment is collected by Direct Debit. You will be sent an invitation by GoCardless to set up a Direct Debit the first time we you order. Alternatively you can click "Pay now" on your first invoice and follow the steps.
If you'd like any help with ordering, please just give Alex a call on 07492057366 and he'll be happy to help!