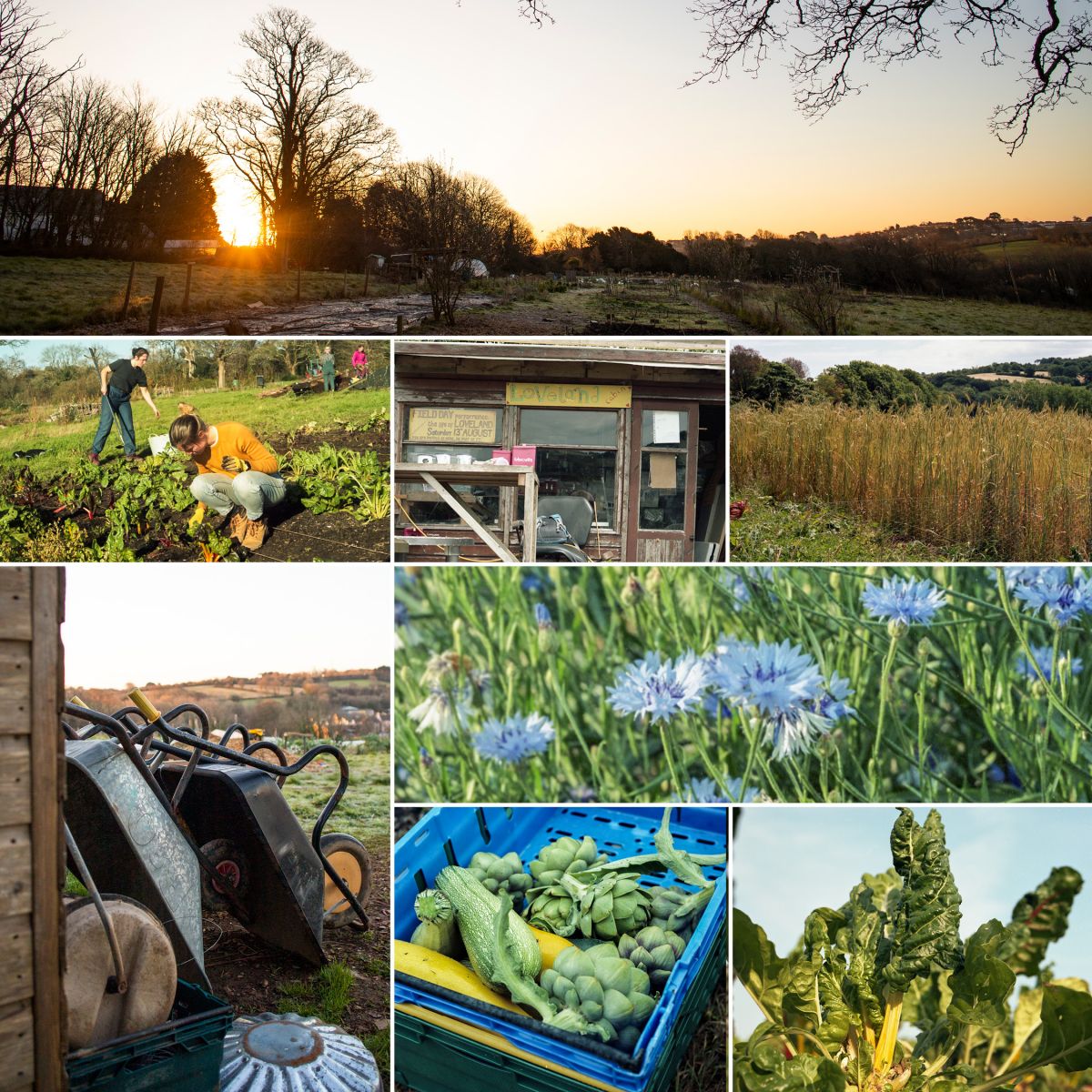 Rooted in our unique location, we promote and celebrate culture, ritual & history through the seasons. An 8 acre field in Penryn for everyone to enjoy. A place to reconnect with nature and each other through work, education and play. To grow, cook, and eat together. Encouraging small acts of local leadership, this is a space to make happy mistakes, learn by doing, dream green and make good things happen. Together, we are growing a rich, resourceful and resilient community that enjoys creating a positive future.
The Loveland community field project offers an open and welcoming space to encourage local people to get more involved in the growing of our food through working, learning and gathering together with a collective spirit that welcomes all.
Throughout 2021 we gathered the ideas and feedback of the local community through events and volunteer sessions, delving into the possibilities of what this big field could become. Everyone's ideas and energy are welcome at Loveland.

Come and join in on a Wednesday (10-4pm) or Saturday (10-1pm) volunteer session where sitting and enjoying the sunny view is just as encouraged as picking up a spade, hoe or seed to plant! Please email loveland@falmouthfood.coop if you'd like to be added to the volunteer email list for a weekly update on what's happening.
Since Loveland began in 2021, it has grown from a simple sunny field into a sanctuary for a whole host of subgroups within the wider Loveland project. These groups and projects have emerged from the ambitions of Loveland volunteers brought to life through the Loveland field and the opportunities it provides for our community to flourish. Read below for more information on each of the Loveland subgroups as well as the Loveland steering group. See something you like the sound of? Don't be shy, get in touch to get stuck in!

Producing sustainable food for the community has been part of the vision for Loveland ever since its founding. In November 2021, the commercial vegetable plots started to be created. Separate from the community beds, these plots grow food not-for-profit, to support Loveland. Whilst being coordinated by Finn, the project maintains the Loveland spirit by being community-led and requiring community involvement. The project offers an opportunity to engage with food growing and learn about truly sustainable growing methods.
You can currently find our produce in our online shop (the Grocery), the Princess Pavilion cafe and the Loveland roadside stall. We also provide the veg for our events and feasts, and you will find us at Penryn's monthly community market.
If you're interested in being involved then email Finn (lovelandproduce@falmouthfood.coop) or come to our specific volunteer sessions that are every Thursday 10am-1pm (to become Wednesday 10a-4pm in May), everyone is welcome!

At the heart of the Loveland project is our community vegetable plot. Here, anyone and everyone is welcome to plant and harvest. This plot is the focus of our Saturday volunteer sessions and all are encouraged to take home whatever is ripe and in season. The fruits (and veggies!) of our collective labour taste so much the sweeter knowing we grew them together.

This group looks after all things trees at Loveland. In the Winter of 21/22 we planted almost 600 trees including all sorts of fruits, nuts and natives. The main thing in these early years is to have many pairs of eyes checking how they are doing - looking out for any signs of nibbling animals or rubbing on the guards and watering if dry. We have a WhatsApp group and an email list to coordinate this. We also plan to organise a few tree and orchard related fun events at the field (painting signs, a wassail, and maybe a blossom day). If you'd like to join us get in touch!

Collaboratively designed and created, the medicinal herb garden is an accessible space for the educational and practical purpose of nurturing our collective wellbeing. The initial 'mother' bed or 'physic garden' will house over 30 key plants used in an apothecary to create teas, tinctures and balms. Formed during the pandemic the herb group is a mix of participants with varying levels of knowledge and experience in propagation, production and use of culinary and medicinal herbs. There are a huge variety of herbal teas and concoctions we can grow ourselves whilst learning and working together. If you fancy getting involved email lovelandmedicinegarden@gmail.com

Be it planters, pergolas, a compost loo or even the new community barn - the design and build group have loads going on for you to get involved with. The team are at the land most Saturdays and open to requests for activities on other dates too. We have skills workshops coming up so you can get to grips with using tools and be introduced construction and craft. We're also planning participatory design sessions, offering the community a chance to shape Loveland's future. Design and build workshops will often feature as one event but sometimes design or build events will happen independent of each other. If you have any questions about design in particular you can contact ste@socialdesigns.org - if your preference is building you can contact fran@socialdesigns.org. If you fancy a bit of both contacting either is fine as we'll be in touch with each other. We'll keep you up to date with our events programme via the newsletter!

Bloomin' marvellous flowers grow on our fabulous field too. Not only does their colourful abundance bring joy to our hearts, but the bees also adore them. The patch is led by experienced commercial flower grower Lovelander Liz and there are always things to learn and jobs to do, so get in touch if you're blossoming with enthusiasm!
We're at the early stages of an experiment in human-scale diverse grain using locally adapted, heritage and population mixes. We've sourced grains suited to the Cornish climate and landscape from local growers and seed banks as far away as Canada. The plan is to build up seed stocks of those at the same time as growing population mixes resilient to climate change. We've even thrown in a strip of quinoa and amaranth and we're experimenting with intercropping pulses and using living mulches too. Current jobs are keeping an eye on what's already sown, at the same time as exploring the best way to harvest, thresh, winnow, process and store the grains. With upwards of 50% of global calories coming from grains, they're absolutely critical to community food resilience, and we're excited to be learning together whilst we go. Anyone at all interested is absolutely welcome to get involved – just drop us an email: duncanpearson@yahoo.com.

Calling out for new steering group members! Are you interested in being involved in overseeing the development and goings on of the field?
Being a Loveland steering group member is a really great way to become more involved at the field. The steering group is an integral part of sustaining the field as well as bringing to life the hopes and dreams of the community.
Being a Loveland SG member involves meeting once a month (this alternates between a Monday evening and Saturday morning), helping to action and deliver on different aspects of the project and assisting in running one Saturday volunteer session a month.
If you'd like to find out more, please email loveland@falmouthfood.coop
Our Aims, Intentions & Purpose
To enhance wellbeing by providing an inclusive welcoming space for joy, connection to ourselves, the land and each other,
To nurture community resilience through participatory action and shared experience that benefits our local ecosystems and economies
To produce local food, contributing to food security: raising awareness of and accessibility to healthy nutritional food.
To significantly improve the condition of the land as a space for education and learning: where people of all ages and abilities can learn to grow, prepare, cook and eat delicious and nutritious food
To encourage and increase biodiversity on the land through nature conservation and the creation of healthy ecosystems for plants and wildlife

Give a one off donation
If you'd like to make a one off donation to the Loveland project please click the button below.

If you'd like to support the project financially please click the button below to give £5 a month. We rely on these donations to keep the field up and running, for rent costs, insurance, field maintenance and communications.

Thank you to everyone who supports Loveland through these donations it really makes all the difference and if you aren't able to donate financially that's not a problem. Everyone is welcome to be a part of Loveland and contribute with their time, love and smiles too!
If you've got any spare tools for the garden or shed, we'd love them! Please get in touch loveland@falmouthfood.coop.
Keep an eye out on our Instagram page @falmouthfoodcoop to see what is happening or stay in the know through the Loveland newsletter by joining our mailing list - see in footer.
We look forward to seeing you up at the field and hearing your ideas and feedback.
Here is a pin on Google Maps to help you find us.
Email loveland@falmouthfood.coop to find out how to get involved.
---
Let's get our hands dirty – grow an orchard, a forest garden, fresh salads, flowers,
vegetables and herbs and leave room around us for wildlife to return.
---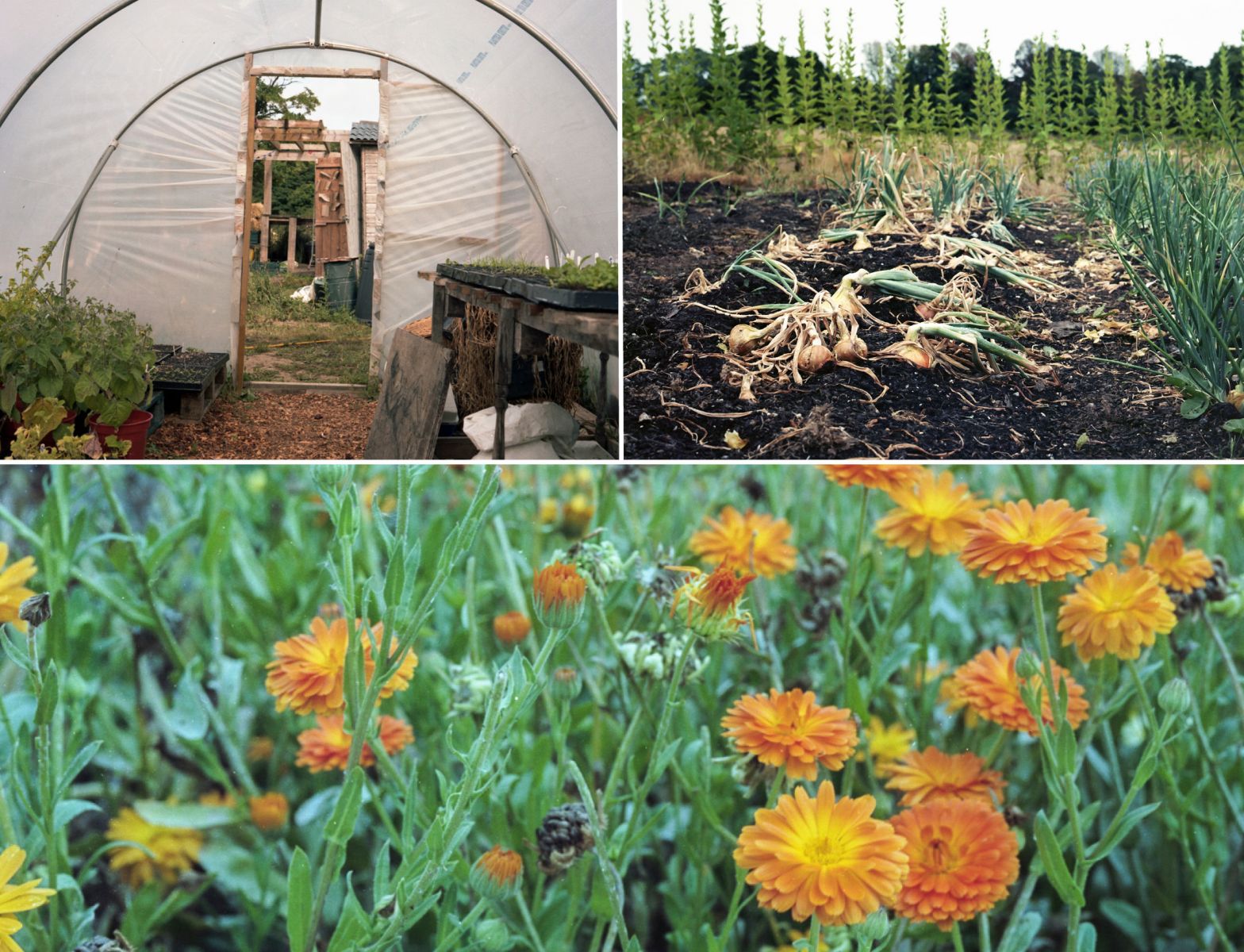 With thanks to George for the lovely photographs. Through ongoing photographic work at Loveland Community Field, George Steedman Jones is creating a multimedia document of the land through the seasons. This project is a collaboration between the photographer, a community growing space and the people who care for it. It explores and comments on seasonality, food sovereignty, community wealth and resilience and adaptation to climate breakdown. The philosophy of this project is low-impact and land-friendly.