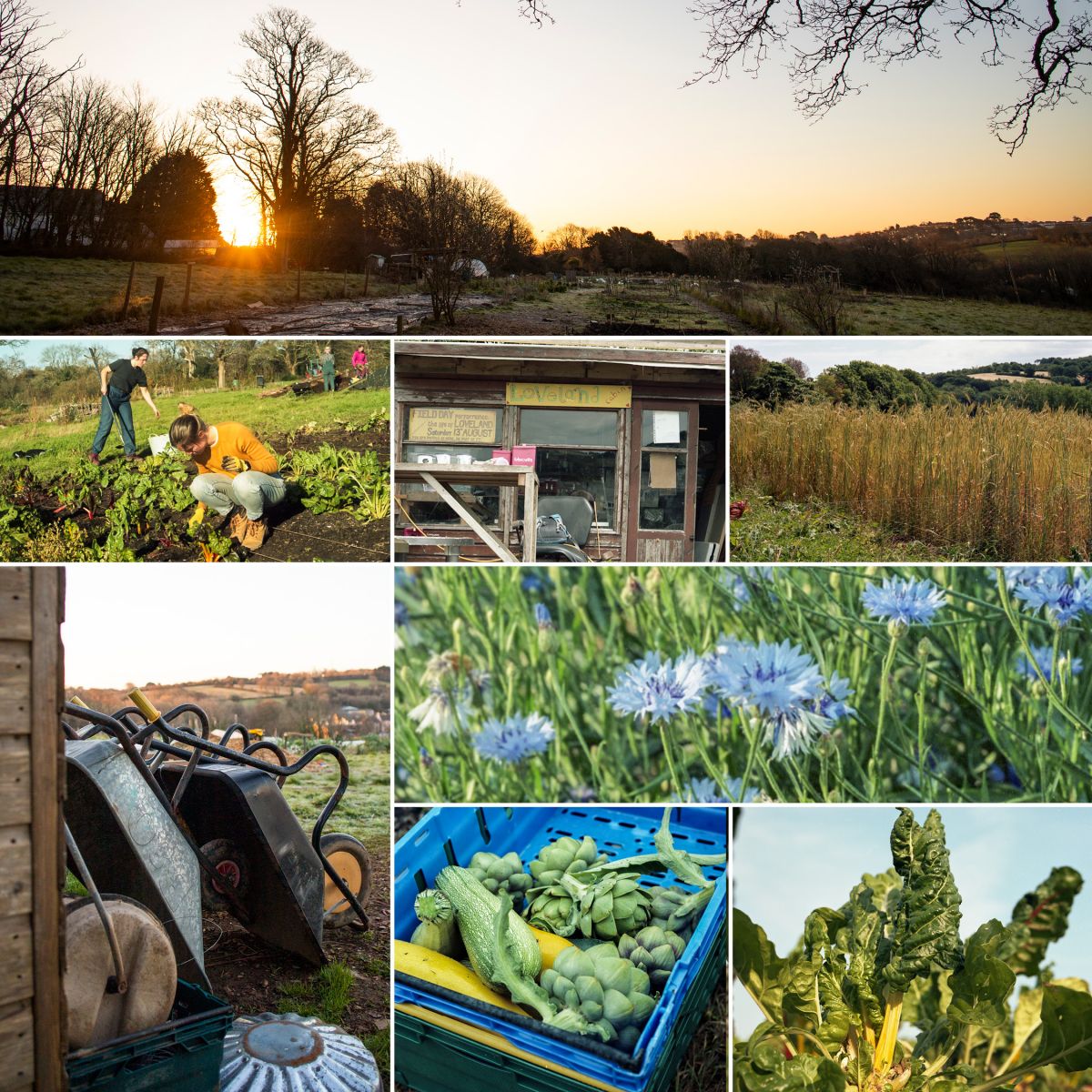 Rooted in our unique location, we promote and celebrate culture, ritual & history through the seasons. An 8 acre field in Penryn for everyone to enjoy. A place to reconnect with nature and each other through work, education and play. To grow, cook, and eat together. Encouraging small acts of local leadership, this is a space to make happy mistakes, learn by doing, dream green and make good things happen. Together, we are growing a rich, resourceful and resilient community that enjoys creating a positive future.
The Loveland community field project offers an open and welcoming space to encourage local people to get more involved in the growing of our food through working, learning and gathering together with a collective spirit that welcomes all.
Throughout 2021 we gathered the ideas and feedback of the local community through events and volunteer sessions, delving into the possibilities of what this big field could become. Everyone's ideas and energy are welcome at Loveland.

Come and join in on a Wednesday (10-4pm) or Saturday (10-1pm) volunteer session where sitting and enjoying the sunny view is just as encouraged as picking up a spade, hoe or seed to plant! Please email loveland@falmouthfood.coop if you'd like to be added to the volunteer email list for a weekly update on what's happening.
Since Loveland began in 2021, it has grown from a simple sunny field into a sanctuary for a whole host of subgroups within the wider Loveland project. These groups and projects have emerged from the ambitions of Loveland volunteers brought to life through the Loveland field and the opportunities it provides for our community to flourish. Read below for more information on each of the Loveland subgroups as well as the Loveland steering group. See something you like the sound of? Don't be shy, get in touch to get stuck in!

Calling out for new steering group members! Are you interested in being involved in overseeing the development and goings on of the field?
Being a Loveland steering group member is a really great way to become more involved at the field. The steering group is an integral part of sustaining the field as well as bringing to life the hopes and dreams of the community.
Being a Loveland SG member involves meeting once a month (this alternates between a Monday evening and Saturday morning), helping to action and deliver on different aspects of the project and assisting in running one Saturday volunteer session a month.
If you'd like to find out more, please email loveland@falmouthfood.coop
Our Aims, Intentions & Purpose
To enhance wellbeing by providing an inclusive welcoming space for joy, connection to ourselves, the land and each other,
To nurture community resilience through participatory action and shared experience that benefits our local ecosystems and economies
To produce local food, contributing to food security: raising awareness of and accessibility to healthy nutritional food.
To significantly improve the condition of the land as a space for education and learning: where people of all ages and abilities can learn to grow, prepare, cook and eat delicious and nutritious food
To encourage and increase biodiversity on the land through nature conservation and the creation of healthy ecosystems for plants and wildlife

Give a one off donation
If you'd like to make a one off donation to the Loveland project please click the button below.

If you'd like to support the project financially please click the button below to give £5 a month. We rely on these donations to keep the field up and running, for rent costs, insurance, field maintenance and communications.

Donate
Thank you to everyone who supports Loveland through these donations it really makes all the difference and if you aren't able to donate financially that's not a problem. Everyone is welcome to be a part of Loveland and contribute with their time, love and smiles too!
If you've got any spare tools for the garden or shed, we'd love them! Please get in touch loveland@falmouthfood.coop.
Keep an eye out on our Instagram page @falmouthfoodcoop to see what is happening or stay in the know through the Loveland newsletter by joining our mailing list - see in footer.
We look forward to seeing you up at the field and hearing your ideas and feedback.
Here is a pin on Google Maps to help you find us.
Email loveland@falmouthfood.coop to find out how to get involved.
---
Let's get our hands dirty – grow an orchard, a forest garden, fresh salads, flowers,
vegetables and herbs and leave room around us for wildlife to return.
---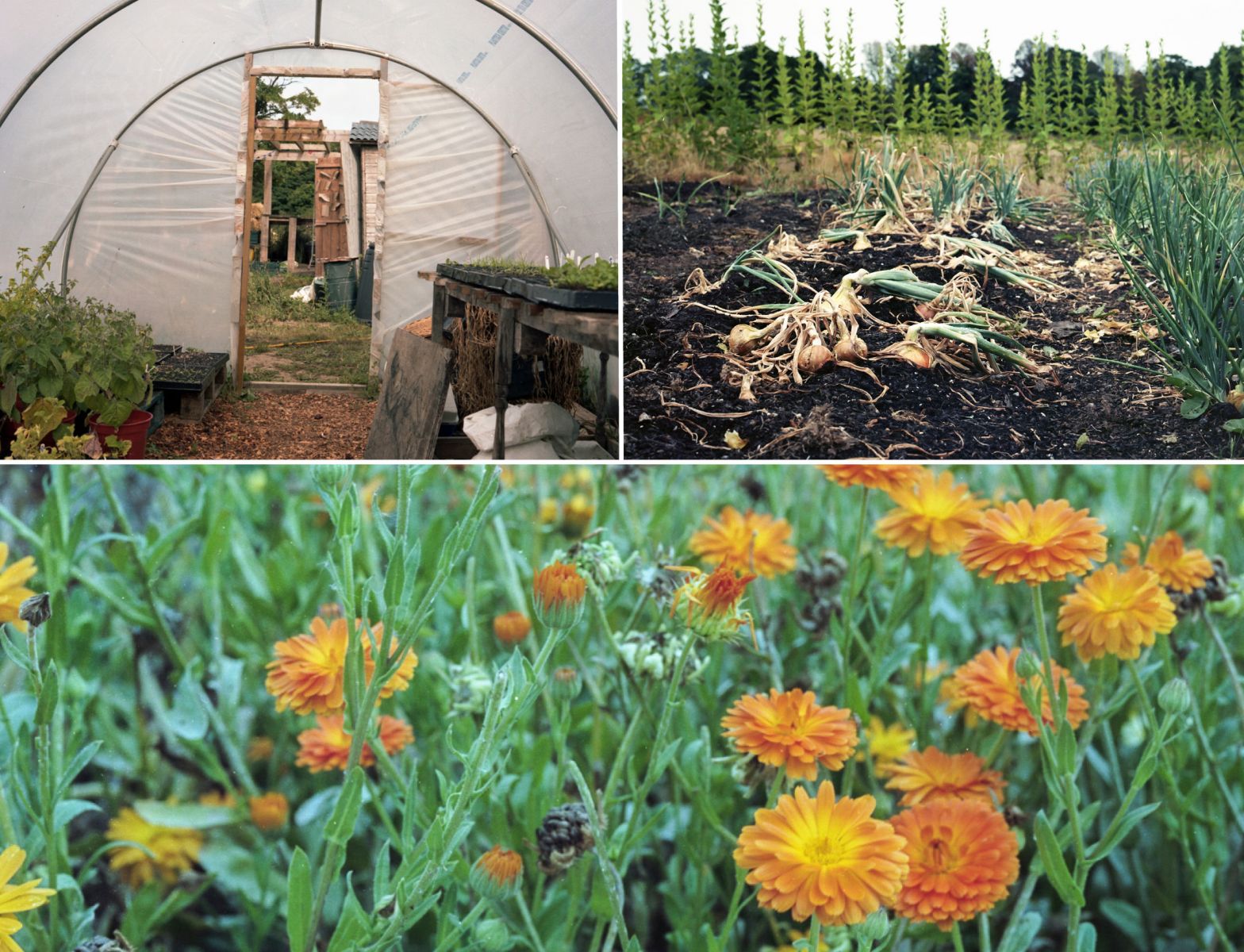 With thanks to George for the lovely photographs. Through ongoing photographic work at Loveland Community Field, George Steedman Jones is creating a multimedia document of the land through the seasons. This project is a collaboration between the photographer, a community growing space and the people who care for it. It explores and comments on seasonality, food sovereignty, community wealth and resilience and adaptation to climate breakdown. The philosophy of this project is low-impact and land-friendly.